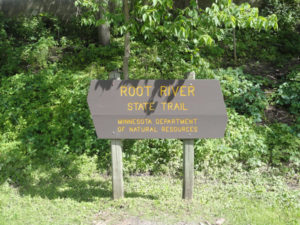 The Root River & Harmony-Preston Valley State Trail meanders throughout scenic Southeastern Minnesota amid 300-foot bluffs and along the peaceful Root River. The trail system boasts over 60 miles of paved surface.
Coffee Street Inn is located directly across the street from the Root River State Trail. Bike storage is available at the Inn. If you need to rent a bike, there are bike rentals available in Lanesboro.
In the late 1980's, the Minnesota Department of Natural Resources (DNR) constructed a paved multi-purpose recreational trail through the heart of downtown Lanesboro on what had formaly been the Milwaukee Railroad bed.
People from all over come to enjoy biking, walking, skiiing, skating and nature & wildlife walks on the trail.
Other Biking & Trail Links: