Coffee Street Inn is within walking distance to several places to eat in Lanesboro. Whether you want a small, intimate dining with a chef driven menu, burger or pizza, outside dining over the river, or a treat to end the day with, Lanesboro has a great variety of dining options.
Old Village Hall Restaurant & Pub
111 Coffee St E, Lanesboro
507-467-2962
Fine dining in a casual setting. Outside seating during the warm season; weekly seafood specials, micro brew, fine wine selection plus a full bar. Happy to accommodate vegetarian or vegan diets.
Root River Unwined
102 Coffee Street W, Lanesboro
224-688-4663
Using many products from local farmers, brewers and vintners as possible, coupled with several of our favorite wines from the rest of the world. In a relaxed atmosphere, with lots of outdoor seating, come try locally created shareable plates in our new wine bar. And, we want to make kids feel special with their own selection of small plates and specialty drinks
Pedal Pushers Cafe
121 Parkway Ave N, Lanesboro
507-467-1050
Made-from-scratch cooking featuring locally grown meats, dairy, and in-season produce. Large selection of comfort food favorites, sandwiches, and salads with some unexpected twists. Serving craft beer on tap, homemade draft root beer, and roast their own coffee beans. Large selection of gluten free and vegetarian meals as well.
High Court Pub
109 Parkway Ave N, Lanesboro
507-467-2782
Pub, Food, Entertainment.
Sylvan Brewing
100 Beacon St W, Lanesboro
507-467-4677
Serving you tasty flavors in three Sylvan beer categories: 1) Comfy, Crafty, and Crazy. Comfy beers are the easier-drinkers, usually with a lower ABV. 2) Crafty beers are more robust in flavor and ABV but still familiar to most. 3) Crazy beers will be experimental and allow us to get let loose a little (to come a bit later).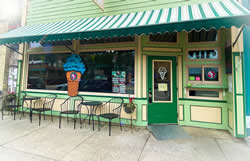 Loubelle's Ice Cream & Sandwich Shoppe
111 Parkway Ave N, Lanesboro
507-467-2200
Panini's, Sandwiches, Ice Cream and more.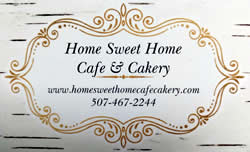 Home Sweet Home Cafe & Cakery
210 Parkway Ave N, Preston
507-467-2244
Cafe features breakfast all day, lunch menu, & daily specials. Nice supper specials on special occasions.
Another Time Ice Cream Parlor & Chocolates
100 Parkway Ave N, Lanesboro
507-467-3556
30 Flavors Bridgeman's Ice Cream* (most Gluten Free), Caribou Coffee* & Espresso Bar, Abdallah Chocolates* (sea salt caramels, fudge, truffles +) Smoothies (non-dairy avail), Cold Beverages, Kapper's Red Barn* local milk, Fresh-made whip cream. (*MN companies) Outdoor patio seating.
Old Barn Resort
24461 Heron Road, Preston
507-467-2512
Full service restaurant and bar with great atmosphere in their 4-story barn (listed on the National Historic Register!). Serving lunch & dinner–featuring delicious ribs and pork that are smoked on-site and prepared with their own scratch-made sauces, as well as chicken, tasty sandwiches, salads, wraps, burgers, entrees & more!